2019 Success Stories Coming Soon…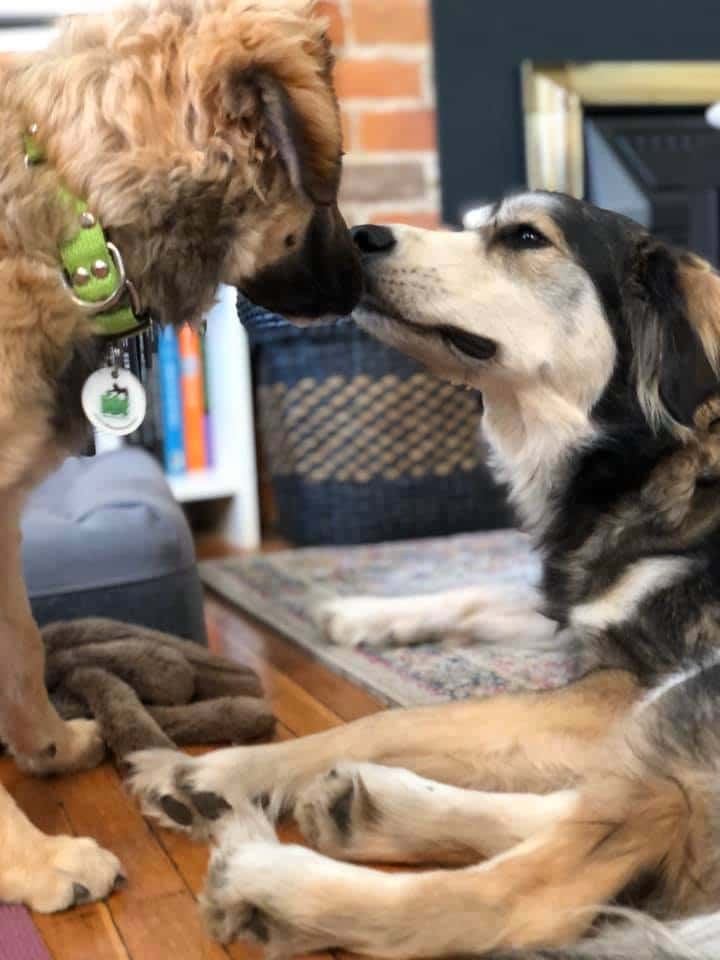 Hello
We just wanted to reach out and thank you for your support!  We have been able to help 200 dogs find their forever family's this year.  Woofstock was a great time to catch up with our adopted pups and meet some future adopters.  And, we had a great time with our prize wheel!  We appreciate your support and will be able to put it towards some of our current expenses.
With much gratitude
DIBS Rescue
(Including a recent photo of adopted Nacho welcoming new puppy Tiramisu into his home, as a foster pup)
Dear Teanna, Michael & the Rest of the WOOFSTOCK Team,
We just received your donation in the mail! What a wonderful addition to our HOWLiday Campaign! The timing couldn't be better! Thank you so very much, as always, for this special support!
We'll be hunkering down to issue tax receipts early in the New Year so we'll get one out to you before tax time is upon us! We did note that we never issued one for you last year but did try to connect with you about it. If you would like us to incude the tax receipt for WOOFSTOCK 2018 with this year's tax receipt, please let us know and we'll ensure it's sent out to you at the same time.
Thank you again so much for this generous contribution to our little beagle repair shop! It really does make an impact on the beagles we're here to save each year. Our focus continues to be the rescue of senior beagles, those with chronic or serious health issues, those requiring life-saving surgeries, and those suffering from physical and emotional trauma. With that mandate, there are always big veterinary costs. That's why donations like yours mean the world to us and to beagles like Velvet. Velvet came to us just before last Christmas after being abandoned by her owner and landing in an animal shelter. It was practically a Christmas miracle that we found a foster family to take her home on Christmas Eve! We had hoped her health issues were minimal for a senior beagle, but in the last few months, she's had her share of trips to specialists for some fairly serious internal troubles including sudden onset Glaucoma. We feared she might lose one of her eyes but a concoction of eye drops and some very dedicated foster parents has saved the day and the eye!
On behalf of Velvet and all the other beagles in our care, thank you from our hearts! Wishing you the very best for the HOWLidays and throughout 2020!!! See you again soon!!!
Sincerely,
Marna Gale & The Gang at
BIG ON BEAGLES (B.O.B) Rescue
Charitable Registration #856968458RR0001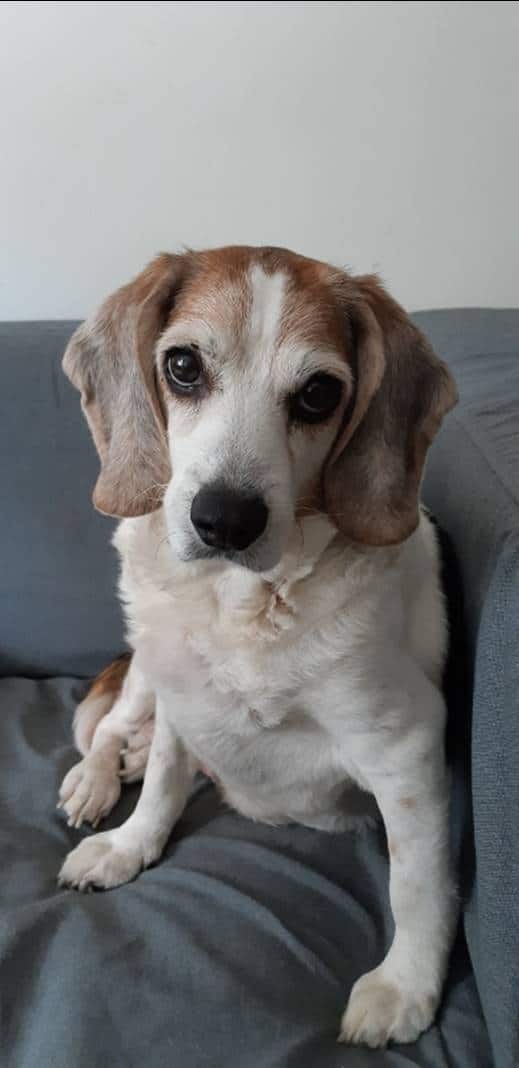 Molly Boston
The good folks at Woofstock asked us to send our annual update and a story about one of the dogs helped by their kind donation. This is the story of Molly and how Woofstock's generosity helped her regain a full, happy and healthy life.
In May 2019, we received a late-night call on our rescue line from an animal health technician who worked at one of our partner veterinary clinics.  She explained that one of her sister's friend was at an emergency clinic with their dog Molly who had been diagnosed with pyometra.  As many of you know, pyometra is an infection of the uterus and is a condition that can affect female dogs who haven't been spayed. It always requires urgent veterinary treatment.
The young couple whose dog Molly was had no money for the surgery and didn't know what to do.  She wanted to know if we would accept Molly into Speaking of Dogs Rescue and we responded as we often do, "of course we can help". Molly was immediately spayed and all seemed to be going well with her spay recovery when the foster mom noticed that she had started limping and carrying one of her back legs.  At first, we thought she had sustained an injury but, as we soon found out from our vet, she had a luxating patella.  We were referred to an orthopedic surgeon who explained that not all luxating patellas require surgery but unfortunately Molly's kneecap was more severe than most and he recommended we have surgery done.  We made arrangements and the operation was performed with success.  The recovery and rehab took several months but at last Molly was ready for adoption.
Molly had some dog reactivity issues and required an experienced responsible adopter who would be committed to her, her training and any challenges that might arise.  We received quite a number of applications for Molly but one in particular stood as "the one".  We feel strongly that making the right match is so important. Doing the 'upfront' work usually pays off in the long run.  Equally important are transparency and being forthcoming about the dog's personality, needs and medical history.  Molly found a wonderful new home and family and is blossoming in every way.  Thanks to her spay surgery she will never end up with pyometra again and thanks to her orthopedic surgery she can run and play, go for trail walks and also jump into the car for road trips!
With the generous and supportive Woofstock donation, we are able to give Molly the life she deserves Stories like Molly's are made possible thanks to the donations we receive. Speaking of Dogs Rescue is a registered charity run solely by volunteers.  We are proud to be in a position to offer sanctuary, veterinary medical attention and intervention, safety, kindness and a caring hand and heart to a dog in need. It is a privilege and commitment we take very seriously – and have for almost two decades.
Sending our sincere thanks to the awesome team at Woofstock!
As usual, we had a fantastic time at the event this year, and we appreciate Woofstock's continued support of our rescue. We love this event because we get the opportunity to network with an amazing group of dog rescuers and dog lovers. We also had some great new volunteers sign up after speaking with them at the event. Thanks to Woofstock's very generous donation to our rescue, we were able to save so many dear dogs – such as little Harley, who was severely neglected for the first two years of his life. This poor little poodle mix was never taken to a vet or groomer. He was so horribly matted when we got him that he could not see and had sores all over his body. The after picture says it all! We could not save these precious pups without the support of wonderful organizations like Woofstock!
Thank you again!
From the team at Adopt a Dog Save a Life Inc.
Website: www.adoptadogsavealife.com
Email: info@adoptadogsavealife.com
Phone: 416-787-3862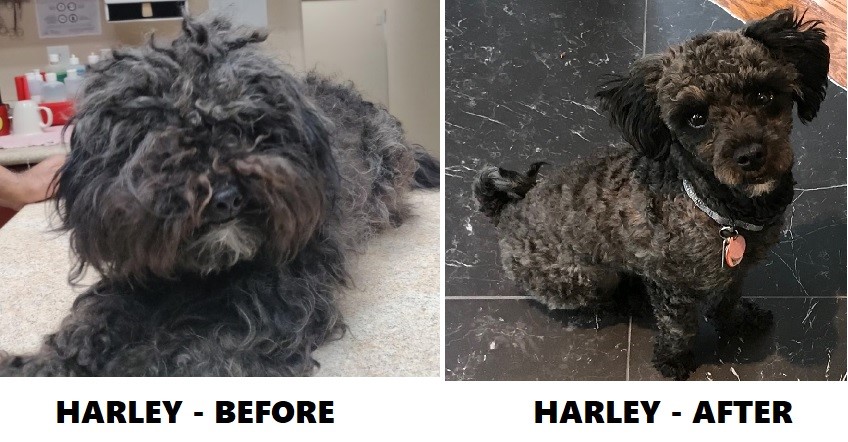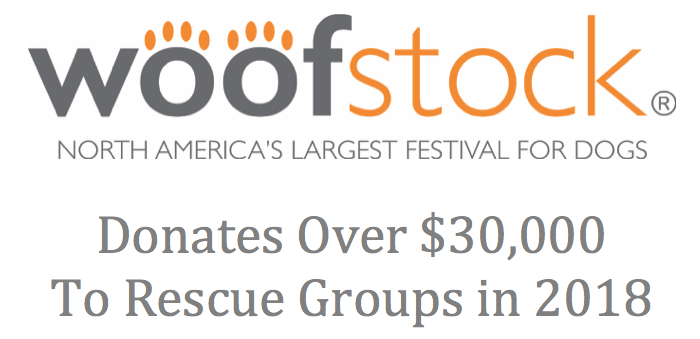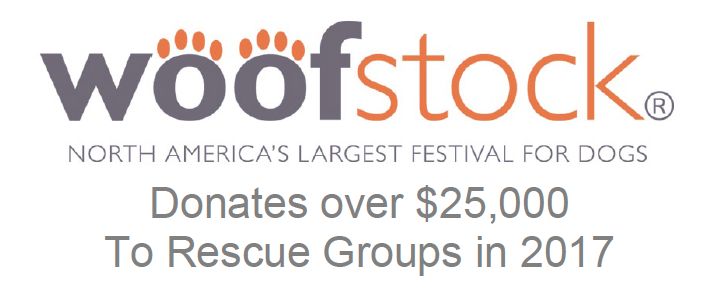 Enjoy some of the Success Stories from our 2017 Donations below.